Prenatal Yoga Teacher
Training Course
40 Hours , YACEP
"The rhythm of the body, the melody of the mind & the harmony of the soul create the symphony of life."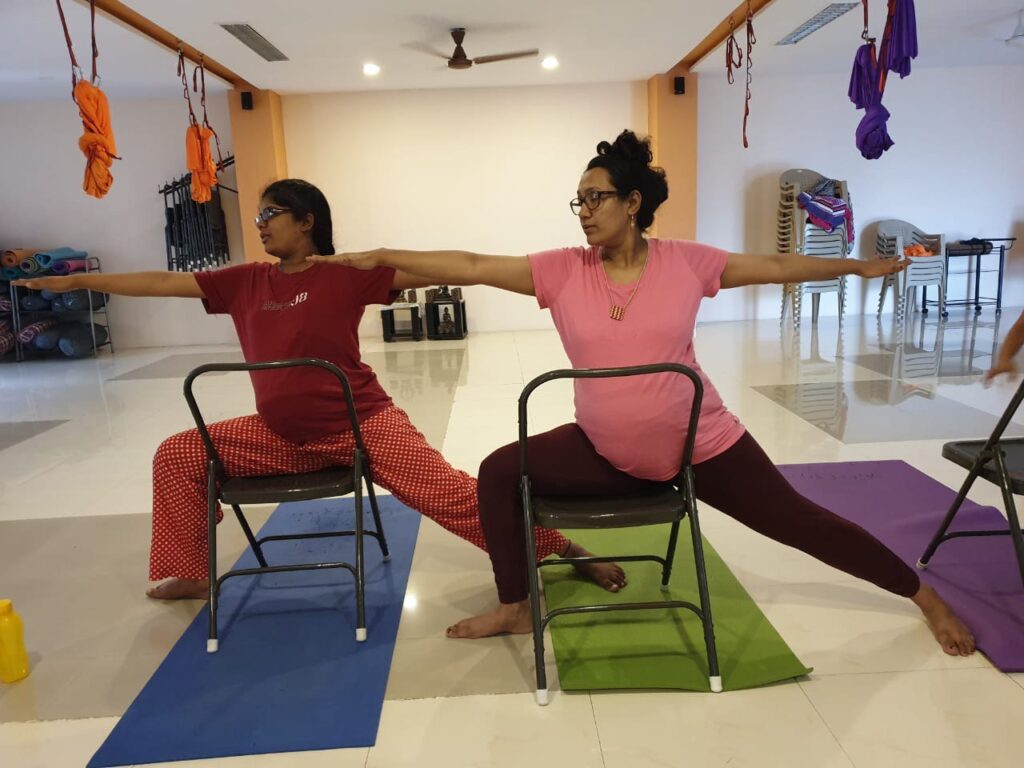 Pregnancy and becoming a mother is unquestionably the most special time for every woman. All mothers-to-be deserve our attention, support, and individual care – yoga can help a lot!
THE COURSE IS BEST SUITED FOR:
Regular Yoga practitioners to deepen your yoga knowledge.
Yoga instructors.
Mom-to-be.
Yoga practitioners planning to conceive.
Prenatal Yoga TTC
Pregnancy may be an emotionally and physically demanding time and the practice of yoga has been proven to be very beneficial during pregnancy. Prenatal Yoga is a wonderful method to prepare for childbirth and beyond.
This is a comprehensive prenatal yoga certification programme designed to equip aspiring yoga instructors with a strong foundational knowledge of physiology and anatomy in pregnancy. Students of the course will learn to support women in every stage of pregnancy, through yoga practices.
The Prenatal Yoga teacher training program is uniquely designed for yoga teachers who want to specialize in pre and postnatal yoga. Pregnancy can be an emotionally and physically challenging experience and yoga practice has shown a lot of benefits for pregnant women. During pregnancy, every organ and system has to work hard to nurture the baby and also to keep the mother strong and fit. After the successful completion of the program you can start teaching the Prenatal Yoga all over the world.
This course will help you in both to modify a yoga practice for your "regular" students who got pregnant or to build special prenatal/postnatal programs for women who have never practiced yoga before.
Registrations Open!
From 2nd to 24th September 2023
Every Weekend
AVAIL HUGE DISCOUNT!
THE COURSE AIMS AT:

1. The teachings of Garbhasanskara in this course helps one to understand the process in depth. Addressing physiological& psychological changes during pregnancy.
2. Modifying and sequencing the yoga practice accordingly
3. Trimester-wise Classification of asanas, benefits, and contra-indications
4. Knowledge of preconception and postnatal practices
5. Breathing techniques during labor
6. Yoganidra and meditation for positive attitude during pregnancy.
WHAT TO EXPECT:
Practical tools for teaching a safe and comprehensive prenatal yoga class
A thorough understanding of yoga for application in various pregnancy-related physical and mental conditions
Learn how to do sequencing for various stages of pregnancy and how to adapt the poses for each individual as per the daily needs and limit
Prenatal TTC Number of Hours and Topics to be covered:
| | |
| --- | --- |
| Prenatal techniques, training and practice | 20 hours |
| Anatomy and physiology | 5 hours |
| Prenatal Yoga philosophy | 2 hours |
| Apprenticeship | 5 hours |
| Teaching sessions | 5 hours |
| Understanding teachers role | 3 hours |
Pregnancy is a very important part in one's life, and stating healthy and happy is of utmost important during this very crucial phase of one's life. The changes in the body as one conceives, can create havoc in one's mental health, if one is not aware of what to expect during pregnancy.
In a prenatal yoga session, one has to keep in mind the changes in the body, and has to modify and adapt to the changes in each trimester. A good knowledge of the asanas as well as the changes in the body in each trimester is very important, in designing the sequence and structure of a prenatal session. The one on one session is very personalized and helps to cater to your individual requirement during pregnancy.
Our prenatal yoga sessions are conducted by our certified prenatal yoga teachers who have a thorough knowhow of the above. We offer one on one prenatal yoga sessions to help you sail through your pregnancy and also to help you for delivery.
Our prenatal yoga session helps one to stay healthy physically and mentally. Our teachers provide the required support and environment one needs during this period.
COURSE SYLLABUS:
MODULE 1: FUNDAMENTALS OF PREGNANCY
General Anatomy & the Anatomy of a Pregnant Woman
Physiological Changes in Pregnancy
Trimesters: An Anatomical & Yogic Point of View
Stages of Labour
MODULE 2: APPLICATION OF YOGA FOR VARIOUS CONDITIONS DURING PREGNANCY
Common Aches & Pains During Pregnancy
Complications in Pregnancy
Miscarriages
Premature labour
Hypertension
Diabetes
Other common conditions and issues related to pregnancy and how to handle them through yoga
MODULE 3: STRUCTURING AND TEACHING A COMPREHENSIVE PRENATAL YOGA CLASS
Prenatal Yoga in the Classroom: Asanas, Pranayamas, Meditation and Relaxation Techniques
Usage of Props During Pregnancy
Therapeutic Benefits of Postures, Breathing, Meditation & Relaxation
Precautions, Postures to Avoid & Modifications for certain conditions
Payment & Registration
Limited Slots! Register below to book your seat for the next Prenatal Yoga Online TTC
Rs.28,500 / USD 375
Registrations Open!
From 2nd to 24th September 2023
Prenatal Yoga TTC Student Testimonials
I wanted to share my feedback for Anahata and wanted to thank Kani Maam and you.

"Pregnancy during covid second wave was itself little scary for us and we were equally nervous since we were becoming parents for the first time.

Anahata prenatal yoga was a blessing for us.

My special thanks goes to Kani Maam… She not only made me comfortable to pregnancy but educated me on the dos and donts of posture so well … just like a parent does.

Yoga helped me stay fit .. I always wished for a normal delivery.. but due to complications I had to go for emergency C section. But guess what post natal I have lost all weight gained perfectly. 

Now I weigh the same as I weighed during the time of conception.

My thyroid is also in control and I have very less backache and other ailments which pregnant women generally complain of.

My baby is very active just as Kani Maam used to say.. "Do exercise.. your baby will be born active"

Thank you Anahata for helping me out and making this journey very special and divine.

And a special thanks for introducing me to one of my best teachers.. Kani Maam.
Hello everyone wanted to share a gud news Sooraj and I are so EXCITED to announce that we are blessed with a baby boy this week ! We could not be more happy with how everything is going and feel truly blessed.. I would like to thank Pratibha for suggesting me Kani after understanding my health and my requirement. Kani has been extremely supportive and the tips shared by her around labour breathing techniques , stretches, have helped me in having a smooth delivery … 😁Thanks a ton Anahatha 😁😁😁

Bhagyashree
Frequently Asked Questions
Here are some questions to provide more clarity on the Prenatal Yoga TTC.
If you have any further questions, feel free to email us at [email protected]